AUXICLIC - FLEXIBLE BUSBAR SYSTEM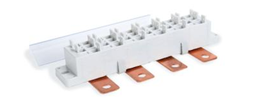 Auxiclic is a flexible interconnection system which allow user to easily and quickly connect MCCBs or other electric protection device to the line.
This system can also be used to connect electric device without powering off the electric installation (critical power / continuity of service).
This product allows all specific fitting requirements.
Key characteristics:
3 sizes:

12 modules (6 outputs per phases / neutral conductor 12 outputs)
24 modules (12 outputs per phases / neutral conductor 24 outputs)
36 modules (18 outputs per phases / neutral conductor 36 outputs)

Operating voltage:
Screw-less connections
Connection thanks to 6/10 mm² connectors (crimp connectors or delivered with pre-cuted cables)
Mechanical mounting: on the main busbars / directly on the cabinet profiles